What Inkjet Printer Should I Buy?
Number 1 Rule ... Never, Ever buy an inkjet or laser printer without checking out the cartridges BEFORE you buy it. If there are no less expensive compatible cartridges available for the model you are considering, then don't buy it.
Some HP & some Canon Inkjet Printers
Should I keep mine or buy something that costs less to run?
Every day I get phone calls or e-mails from people asking for inexpensive alternatives to those expensive HP, LexMark and Canon inkjet cartridges. In many cases the cost of the first set of cartridges is more than the cost of the printer. If this is the case, then you have just fallen into the 'pay me now or pay me later' trap. Very often, as with Canon & HP in particular, the bottom end printers have the most expensive cartridges.
Keep in mind that it is the ink that is the printer manufacturer's cash cow. Something like the razor and blades story.
This article is aimed at explaining the different methods the printer manufacturers use to force you to buy their expensive cartridges. In many cases it would probably be cheaper to give your printer away to someone you don't like and get one that won't eat you out of house and home. I guess you will have to be the one to decide.
Warning - Many HP & Low-end Canon Inkjet Printers Have Unbelievably Expensive Cartridges.
So you buy that $50 HP or Canon printer stacked to the ceiling in the main isle at Walmart or Staples. A month later you go to buy your first set of cartridges, you find out that a Black and a Tri-Colour Cartridge will cost you more than $100!! How can this be .... you only paid $50 for the printer??? !!! To be to the point, you simply will not find inexpensive compatible cartridges because these cartridges have printheads. In turn the printheads have patents, therefore the compatible cartridge manufacturers cannot produce inexpensive compatible cartridges to replace the original (OEM) cartridges.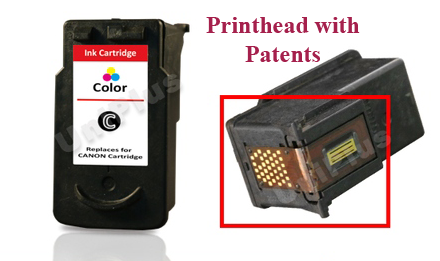 You can sometimes find 'remanufactured' cartridges for those cartridges with printheads, however they are also expensive because of the expense in collecting the empties and the labour involved in remanufacturing the cartridge. We sold our remanufacturing facility back 10 years ago simply because we could not obtain enough empties consistently.
Welcome to the real world of inkjet cartridge marketing. I did say "inkjet cartridge marketing"? The printer companies are not "selling" you an inkjet printer ... no, they almost give away the printer so that you are forced to pay for overpriced cartridges. That is their 'cash-cow'.
If you were to e-mail InkMagic International Ltd. to ask about inexpensive compatible cartridges for your HP or lower-end Canon inkjet printers, I would probably tell you to give it away to someone you don't like and get a printer that has inexpensive compatible cartridges available. I bet the printer salesperson didn't even discuss the cost of operation when you asked what printer to buy. Most likely he/she pointed you to the promo of the day.
If it is within the time period when you can return the printer for credit towards a printer which uses less expensive compatible cartridges, then I certainly would. Continue reading to find out which printers those are.
How do I know if the inkjet cartridge has printheads as explained above? If the printer has only 2 cartridges, a black cartridge and a tri-colour cartridge (Cyan, Magenta & yellow), then the cartridges have printheads and they will be very expensive.
In addition, the tri-colour cartridges have Cyan, Magenta and Yellow in one cartridge rather than separate ones for each colour. If one colour runs out while the other two colours are still half full, then you still must throw out a half full cartridge and replace it.
Next rule of thumb ... Only 2 cartridges, any inkjet printer, absolutely do not buy!!
The Printer Manufacturers' Game.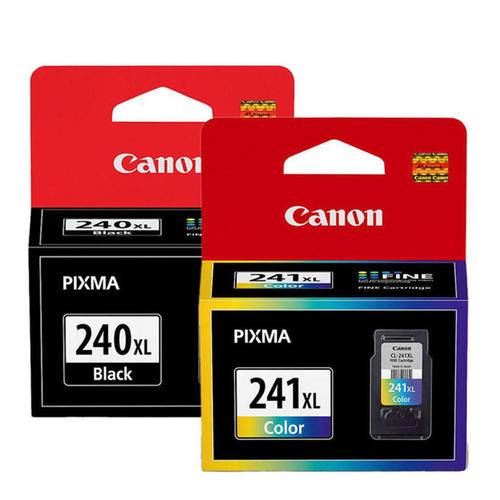 Since the middle of 2021 printers have been in short supply due to the pandemic. It appears that the printer manufacturers are taking advantage of these shortages and making available the models which use only 2 cartridges as explained above ... the money makers for the printer companies. This is an example:
In February and early March 2022 I've been assisting a number of our customers with purchasing of a new inkjet printer. My supplier for Brother and Canon printers has been unable to supply us since the middle of 2021 so I turn to retailers like Staples or BestBuy.
We normally recommend the Brother Multifunction printers (see end of article) as a good printer for home and small business. They are usually in the $100 - $150 range. Unfortunately Brother introduced a new series of printers with a new series of cartridges at the end of 2021. As of March 2022 there are no less expensive compatibles available and with the pandemic there probably won't be until mid or late summer at the earliest.
That leaves us with the Canon Printers. (read below why we do not recommend HP or Epson brands) So I went onto the Staples.ca website to see what they had available. I restricted the search to Canon Brand only and arranged by lowest price to highest. The results were quite disturbing. The first 13 printers on the list (the least expensive models sought out by the typical home/small business user) ALL used only 2 cartridges, a black and tri-colour!!
Lets put this in perspective as far as what you pay for these cartridges. Currently many of the Canon printers use the PG 240 (Black) and CL 241 (tri-colour) series of cartridges. Directly from the Canon website, listed below are the actual quantities of ink (ml) you get in the cartridge, regular, XL high capacity and XXL extra high capacity. Prices quoted are from the Staples.ca website as of March 4. 2022.
Keep in mind that there are 30 ml in 1 oz and 154 oz in a CDN (Imperial) gallon. There are 4,546 ml in a CDN gallon which is what I used in the calculations below. ALSO the printer industry rates the 'pages' at 5% coverage. This is like double spaced text and no or very limited graphics. A more accurate page rating for the typical user would probably be based on 8 - 10% coverage. So if they quote you 600 pages then I would expect more like 400 - 500 pages. So I will do the calculations for you below.
| | | | | | | | |
| --- | --- | --- | --- | --- | --- | --- | --- |
| | | | | Cartridge | Cost per | Cost per | Cost per |
| | | | | Cost | ML | OZ | CDN Gallon |
| PG-240 Regular Capacity | Black | 8 ml | 180 pages | $29.99 | $ 3.75 | $ 224.93 | $ 17,041.82 |
| PG-240XL - High Capacity | Black | 11 ml | 300 pages | $31.99 | $ 2.91 | $ 174.49 | $ 13,220.59 |
| PG-240XXL - Extra High Capacity | Black | 21 ml | 600 pages | $57.99 | $ 2.76 | $ 165.69 | $ 12,553.45 |
| | | | | | | | |
| CL-241 Tri-Color | Tri-Colour | 8 ml - 1.6 ml/colour | 180 pages | $38.99 | $ 4.87 | $ 292.43 | $ 22,156.07 |
| CL-241XL Tri-Color - High Capacity | Tri-Colour | 15 ml - 5 ml/colour | 400 pages | $46.99 | $ 3.13 | $ 187.96 | $ 14,241.10 |
If you go to buy an inkjet printer and you don't have this information then you are playing the printer manufacturer's game. Guess who's going to win ... you or the printer manufacturer?
HP Chip Updates and Automatic Firmware Updates.
Starting in 2015 HP made it possible for the printers to automatically download printer driver and firmware updates if the printer was connected to the internet through a WiFi or ethernet connection. Most homes and businesses have their printers connected to the network these days.
What this does is allow HP to download updates to the printer without you knowing, then update the chips on their cartridges so that less expensive compatible cartridges will not be recognized. This gives HP a monopoly on their cartridges for several months until the compatible cartridge manufacturers can update their chips.
The only thing, other than don't buy HP, is to turn off the 'Automatic Printer Update' function which can usually be done on the front control panel. Even if you turn off 'Automatic Printer Update' the printer will display a message indicating that an update is available and suggest you install it. If you say 'Yes' then the update will install and it will probably prevent you from using non-HP (less expensive compatible) cartridges.
Please click this link for the guide on how to disable automatic updates.
In the past when HP or Epson updated the chips on their cartridges, your printer would continue to work with compatible cartridges if you had been previously using them. Only printers manufactured after the updated chip wouldn't work with older chips.
With firmware updates being installed automatically, printer manufacturers such as HP and Epson can effectively shut down your printer if you don't have Original Manufacturer OEM Cartridges. You can leave the office on Friday with a printer that's working and come back on Monday to a 'dead' printer until you replace the less expensive compatible cartridges with super expensive OEM cartridges.
HP lost a Canadian Class Action Lawsuit with a $700,000 settlement and a U.S. Lawsuit with a 1.5 Million Dollar settlement.
https://mobilesyrup.com/2019/02/08/hp-office-jet-printer-eligible-class-action-lawsuit/
https://topclassactions.com/lawsuit-settlements/closed-settlements/882160-hp-officejet-printer-firmware-class-action-settlement/
To get around future lawsuits they are now declaring on their product pages that their printers may not work with compatible cartridges in the future.
Quote from HP website product page: "Dynamic security enabled printer. Only intended to be used with cartridges using an HP original chip. Cartridges using a non-HP chip may not work, and those that work today may not work in the future."
Did you notice how HP is calling it a 'Dynamic Security' update? Really? They're doing it for 'Security' reasons? Can't remember the last time someone tried to break into my printer to retrieve my deepest secrets. Give us a break HP!
Would we recommend any HP printer? Well, I can't imagine anyone recommending a brand if the manufacturer has and continues to intentionally and systematically shut down a customer's printer because they chose to use a competitor's less expensive compatible cartridge.
Epson Inkjet Printers
We haven't recommended Epson printers for years because of the chips on their cartridges PLUS Epson Inkjet Printers are known to be prone to clogged printhead nozzles ... almost guaranteed!. Just as the compatible cartridge manufacturers come out with a competing cartridge costing far less than the original, Epson will change the chip and force the compatible cartridge manufacturers to rework the chip. Of course, this gives Epson a monopoly for another six months.
Further to this, Epson has been fighting compatible cartridge manufacturers in the U.S. court system for years or should I say, the past decade! They lost every court case and every appeal, right up to the last one. It is unbelievable, but Epson compatible cartridges can no longer be sold in the U.S. because of a court order. Epson now has a monopoly on their cartridges in the U.S. and some parts of Europe.
Many of the smaller compatible cartridge manufactures were put out of business simply because they went bankrupt trying to defend themselves against this giant.
Epson Class Action Lawsuit - Locking out Non-Epson Cartridges. - October 2019
Watch video below for discussion with the President of TopClassActions.com in the U.S.
Recently (over the past couple years) Epson has been following HP's example of downloading firmware updates to the printers without the owners knowing it is happening. Once the update is installed in the printer, it will no longer accept inexpensive compatible cartridges made and sold by other companies.
There is a class action suit against Epson for updating firmware which prevents the printer from using non-Epson brand cartridges. Unfortunately these take years to work through the court system plus U.S. law suits don't have much effect in Canada.
https://topclassactions.com/lawsuit-settlements/consumer-products/electronics/927517-epson-class-action-says-printers-disabled-when-non-epson-ink-used/
There is now a second class action law suit against Epson for the exact same thing .... firmware updates rendering an Epson printer useless if using non-Epson Cartridges.
https://topclassactions.com/lawsuit-settlements/consumer-products/electronics/epson-class-action-alleges-printer-ink-defect/
We do not recommend Epson printers for the same reasons we don't recommend HP printers.
Final thought on Automatic Firmware Updates.
Can you imagine if auto manufacturers used this type of tactic? Your car shuts down because you have a non-Ford or non-Chrysler oil filter or spark plugs or air filter etc. How long would that fly? I just don't know how these printer manufacturers get away with this. Personally I think it should be illegal because this, in essence, gives the printer manufacturers a monopoly on their cartridges. It takes away your choice to choose less expensive compatible cartridges.
At this point about the only way an individual can fight against these underhanded tactics is to simply not buy HP or Epson printers.
Next Rule of thumb ... if the printer is stacked a mile high in the main isle of Walmart (or some other store) and selling for $50 or less, don't buy it. The first set of cartridges will cost more than the printer.
What's up with these 'XL' or High Capacity Cartridges.
For years most inkjet cartridges had only one size. A FULL 'regular' sized cartridge was all you could buy. Then HP decided to sell only partly full cartridges without telling anyone. For example, 10 years ago HP used #45 black cartridges which had 42ml of ink in them. The next years' models used a HP #15 black cartridge. It was physically identical to the #45 used the previous year BUT it had only 27ml. Who knew you paid the same price for 30% less ink. You certainly couldn't tell by looking at the two cartridges side by side!
Next came lower capacity cartridges for low-end models and higher capacity cartridges for higher-end printers ... again lead by HP. eg HP #27 black cartridge had 5ml (yes 5ml) of black ink while the higher-end (more expensive) printer models used the HP #57 with about 20ml of ink. Again, physically the cartridges were identical in size. Do ya think one of those cartridges was only 1/4 full?
Back a few years ago we started to see 'XL' cartridges ... first introduced by ... yep, you guessed it ... HP. So, you could pay ridiculously high prices for a 'regular' capacity cartridge OR you could buy a 'XL' or 'High Capacity' cartridge for an even more ridiculous price. Often times both were the exact same size of cartridge physically so do you think that the 'regular' size, expensive cartridge is only half full?
Often the 'XL' cartridges are available for the mid-range to high-range (more expensive) printers. Sometimes the bottom-end models are stuck using 'regular' capacity only. Hmmmm Guess the cereal manufacturers have been selling us half full boxes for years or should I say decades. The printer companies are just a little less obvious about it.
Ever wonder why you don't see any semi-transparent cartridges like you did 10 years ago? Maybe they don't want you to see just how little ink is actually in that huge cartridge.
Sorry, got on a bit of a tangent there ... Back to what printer to buy:-)
So, what Inkjet Printers are we recommending? The Brother Multifunction Printers.
For over seven years we've been recommending the Brother multifunction printers. We've used the Brother Multifunction inkjet printers in our office for many years. If you purchase a mid-range model you can expect dependable printing for several years. The Brother line of printers have excellent quality, more than acceptable for home and small business use. If you use good quality photo paper, the photos will be more than acceptable to most people, particularly when you consider they are using only 4 colours. Photographers will probably look at photo printers with 6 or more colours.
Like any inkjet printer, you need to use it regularly to keep the ink flowing properly.
The real reason we recommend Brother inkjet printers is because of their cartridges. They are huge compared to most and they have 4 separate cartridges, one for each colour. Brother was the last company to put chips on their cartridges. InkMagic has inexpensive, new compatible cartridges which will save you 30% or more compared to the original. The cost of printing compared to some of the HP and Canon printers could save you up to 70%.
If you are paying $50 or more for a set of cartridges for your HP or Canon printer, then I would suggest buying a Brother printer. It will pay for itself with the cartridges that come with it. By the time you've bought the first set of InkMagic compatible cartridges, you're money ahead.
We are no longer listing the Brother Multifunction Printers on our website as our supplier often put the printers on backorder. We would be pleased to quote a price on available models at the time. Just let us know the type of printer you would like. It also helps if you tell us if it's a home/small business printer or a higher-end office printer. email us at sales @ inkmagic.com (remove spaces).
We do not yet have less expensive compatible cartridges for some of the latest models of Brother Inkjet Printers so it may be necessary to buy the Original Brother Cartridgtes for a while. We don't expect to have our compatible cartridges available until the spring or early summer of 2023.
Some Canon Inkjet Printers should be considered too.
We also recommend Canon printers however only consider those with separate cartridges for each colour (4 or more cartridges). Canon has many printer models with only Black and a Tri-Colour cartridges so check before you buy to be certain it doesn't fall into the category of having only 2 cartridges as explained above. Canon also has inkjet printers aimed at the photo enthusiast. These printers will have 6 or more colour cartridges which will produce exceptional photos if you use good quality photo paper.
I hope you find this article to be helpful. If we've lead you here because you were enquiring about inexpensive cartridges for your HP, LexMark or Canon printers, you now know why you won't see them listed on our InkMagic websites.
---
This article was written by Dale R. Farrier, president of InkMagic International Ltd.
All opinions stated are those solely of Dale Farrier and are not meant to offend any company or product discussed on this page. The purpose of this article is to introduce the average inkjet printer purchaser to another way of thinking when it comes to evaluating which inkjet printer to purchase.
All material is copyright InkMagic International Ltd. and my not be copied in part or whole without explicit permission in writing from InkMagic International Ltd. All rights reserved.