Brother MFC-5890CN
InkMagic high quality inkjet cartridges are sure to produce impressive, vibrant graphics and crisp black text, page after page. Ideal for home or office users who need reliable, professional-quality colour inkjet output. State of the art procedures have been used to re-engineer these high quality cartridges in a professional ISO9001 certified manufacturing facility to insure that these cartridges will print as well as the original ... we guarantee it!

Many InkMagic inkjet cartridges will give you up to 20% more pages than the original Brother cartridge. This is because most manufacturers do not fill their inkjet cartridges completely full. Now that's value!!

All InkMagic Compatible Cartridges come with our no-nonsense 100% Satisfaction Guarantee!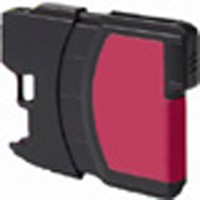 More Info
Your Price: $18.00
Compare to OEM:
$28.00
InkMagic LC-61/65 cartridges are high capacity cartridges at less than regular capacity prices.
InkMagic LC61/LC65 cartridges not only have more ink than the original OEM Brother LC61 cartridges, they can also be used to replace both the LC61 and LC65 cartridges.
The original LC-65 High Capacity Brother cartridges can only be used in the high-end Professional Models. InkMagic High Capacity LC-61/65 cartridges can be used in all models of printers which use both the LC-61 and the LC-65 cartridges.
Compare to OEM @ $28.00+
Brother Compatible InkJet Cartridge LC61 and LC65 Magenta
Your Price: $18.00
Compare to OEM:
$28.00