FREE Shipping on Canadian Orders over $49.00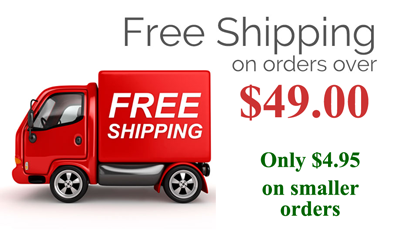 We offer FREE Canada Post Expedited Shipping on Canadian orders over $49.00.
Only $4.95 Canada Post Expedited Shipping Charge on smaller orders. Some exceptions apply. See below.

Most orders ship within 1 business day. You will be informed if there is going to be any delay.

We have warehouses in Richmond, BC and Markham, Ontario. Over 90% of our orders are received within 1 - 2 business days after they leave our warehouse.

We usually ship by Canada Post Expedited but courier shipping is available at extra cost if you need the order faster. We will send you a quote for the additional shipping costs prior to processing your order or payment.
It is much more expensive to ship from Canada to the U.S.A. For this reason, U.S.A. orders do not qualify for FREE shipping at $49 or reduced shipping for smaller orders. Depending on the destination in the U.S., we can usually offer FREE shipping if the order is over $75, but we will quote an exact shipping cost prior to processing your order or payment. Please keep in mind, we can't ship anything, even the smallest item like a single inkjet cartridge into the U.S. for under $18 and probably $20+ for most destinations.
We reserve the right to cancel an order if the order is very small and/or going to a distant location. eg. a single, $12 item going to the Eastern Canada where the shipping could cost $20 or more. We will always notify the customer and ask if they would care to increase the order to help offset the high shipping costs.

Shipping costs continually increase. We do our best to partially or fully subsidize the shipping costs so you know beforehand what the cost to you will be. On rare occasion where the shipping costs are excessive in relation to the value of the order, we ask our customers to look at this from a 'common sense' perspective.
Should have any questions or require further explanation, please feel free to contact us.